Top 5 Tips to Keep Your Car Looking Like New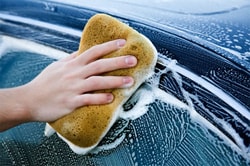 A vehicle is a big investment, and while it's important to tend to a maintenance schedule to keep your car
running
like new, don't forget about your vehicle's aesthetic needs and keeping it
looking
like new. Following a few simple tips can keep your car looking as fresh as when you drove it off the lot for many miles to come. Not only will you feel good about your vehicle, but maintaining its looks can go a long way in trade-in value as well.
1. Follow a regular cleaning schedule.
It's recommended to wash the exterior and vacuum the interior of your vehicle at least once per month, or more when environmental conditions warrant it. Regular cleaning maintains the finish of your exterior and prevents stains and buildup on the interior. It's also recommended to immediately remove contaminants like bird droppings and tree sap, as these elements can permanently damage your finish if not tended to quickly.
2. Don't eat, drink, or smoke in your vehicle.
Eating and drinking in your vehicle can lead to crumbs, spills, and stains, not to mention lingering odors. Smoking in a vehicle can cause a permanent odor, which is not only unpleasant but can also reduce your car's trade-in value.
3. Location, location, location.
Park your car in a garage to protect it from the elements. If that's not an option, parking out of the sun will prevent your paint from fading. When you take your vehicle out on the town, make a point of parking away from other cars to prevent unwelcome nicks and dings.
4. Repair blemishes promptly.
Touch up paint chips and scratches as soon as possible to prevent rusting and paint discoloration in the future. Keep a similar watchful eye on the interior, tending to rips or tears on the upholstery and dashboard before the damage spreads and becomes more unsightly and costly to repair.
5. Protect your surfaces.
Get your car polished and waxed a few times a year to keep the paint job in top shape. On the interior, seat covers and floor mats can keep your upholstery and carpets looking like new. If you travel with children or pets, washable seat covers for the rear can be a valuable investment.