Buick Offers Free eAssist Fuel Efficiency Games for Computers and Smartphones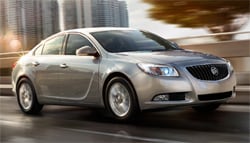 Buick's eAssist technology is an innovative new fuel-efficiency feature offered on the 2012 Buick Lacrosse and 2012 Buick Regal. It improves fuel economy by an estimated 25% by adding a compact electric motor and state-of-the-art lithium-ion battery to a 2.4L four-cylinder ECOTEC engine.
Along with this exciting new technology in their cars, Buick is also offering a package of three interactive games that are not only fun but also educate users on the cool innovations behind this technology and how to maximize your fuel economy while driving. The games are completely free, and are available for iPhone and Android, or playable on Buick's website.


Regeneration Road: This game spotlights the regenerative braking feature of eAssist, which captures energy otherwise wasted during braking to repower the compact lithium-ion battery located beneath the car's trunk floor. Players must make it through a town and to a destination without running out of fuel.


Roll and Boost: This game illustrates how Buick's eAssist technology takes the energy stored from braking to be used later for an added, emissions-free boost of acceleration. Players must navigate a beautiful weekend drive through a flowing countryside on just one tank of fuel, using their energy wisely to complete the course. The goal is distance, not speed, and battery management strategy is vital.

Wind Tunnel Tester: This game allows players to become an automotive engineer and design the ultimate aerodynamic vehicle. Players will quickly see how the modern shapes of Buick sedans help increase aerodynamics and fuel efficiency.