Survey Reports on Distracted Driving Among Teens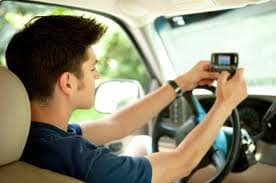 Despite laws banning cell phones while driving and increased awareness of the dangers of doing so, it's a common fact that cell phone use while driving is still a widespread occurrence. Perhaps most discouraging to the issue is that much of this distracted driving occurs amongst young drivers, which is not only a safety concern, but also might indicate that the problem could be deeply rooted for future generations.

A recent national survey by Consumer Reports helps quantify this issue and put it into perspective. In a survey of over 1,000 drivers ages 16 to 21, almost half confessed to talking on a handheld phone while driving in the past 30 days, 30% said they texted, 8% operated smartphone apps, and 7% used email or social media. An even greater percentage of respondents reported seeing their peers engage in these activities: 84% witnessed talking on a phone, over 70% witnessed texting, and about 30% witnessed peers using apps, email, or social media.
The interesting part of the survey is that while many respondents openly admitted to this behavior, almost all of them considered text­ing, using smart-phone apps, or accessing the Internet to be dangerous while driving. About 80% thought it was very dangerous, and 63% thought talking on a handheld phone was dangerous.
And they are right to think so. According to the National Highway Traffic Safety Administration, motor vehicle crashes are the top cause of death for teenagers. It was reported that 11% of teenage drivers who died in crashes in 2010 were distracted.
On the upside, though, the survey also found some positive results toward a reduction of the problem. Almost 75% of respondents claimed to have stopped or reduced distracted driving based on safety concerns, 60% said they were influenced by reading or hearing about the problem, 40% were influenced by laws banning the activities, and 30% were persuaded by urging from family members.
Consumer Reports' survey also found that having peers in the car may help curb distracted driving. Almost 50 percent said they were less likely to use a cell phone when friends were passengers. One reason may be that many young people are speaking up; almost half said they had asked a driver to stop using a phone in the car because they feared for their safety.
If you are a parent, friend, or sibling, keep these stats in mind and set a good example. Pull over to a safe place if you need to use the phone, and speak up if you're riding with a distracted driver.